We are currently have no puppies available, but we are in the planning stages for our next litter (Spring of 2016) and expect to have puppies with potential in the Show, Field, Agility and other performance venues. We typically have a litter every 1-2 years. For all puppy inquiries, please contact us at rachelkelly@willorunn.com.

Our Lundi Gras Litter born 3-3-14 have all gone to their new homes and we look forward to hearing about their upcoming adventures in the field, show, obedience and agility rings!

Nola has earned her first SPECIALTY MAJOR in the show ring at just a year old!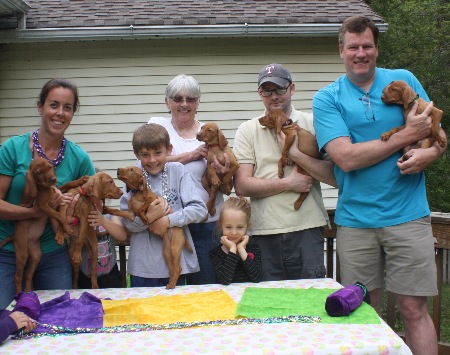 Our Autumn Leaves puppies born Oct 2012 have all gone to their new homes and here is what they are up to:
Sadie - Field and Show Pointed (has both Majors), earned Jr Hunter title
Toby - Show Pointed (has THREE Majors including BOS over specials!)
Aspen - Show Pointed
Margie - Show Pointed
Bella - Earned legs toward Rally and Agility titles! Training for Agility, Field and Show
Lazslo - Earned his CGC. In training for Show, Obedience and Agility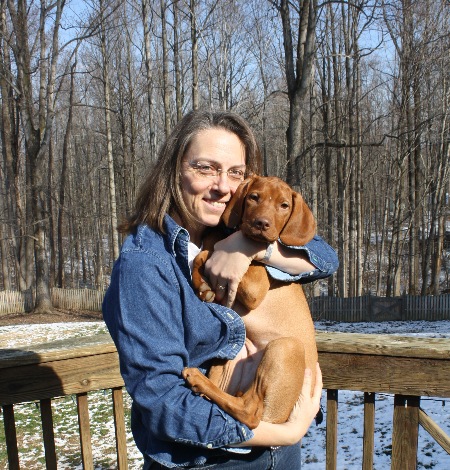 Rachel with Aspen

The 4 Mirock'ls were born 01-30-11 and all these sweet babies have gone to their new homes.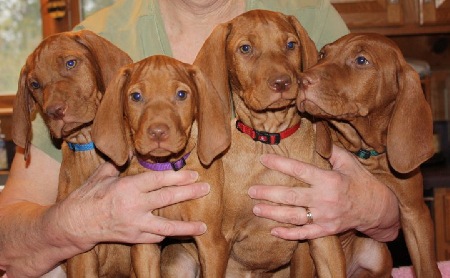 Csoda - Earned his Grand Championship and a Junior Hunter title!
Dougal - MAJOR Show pointed and in training for Obedience/Rally
Dempsey - Trained in Nose Work and Obedience
Roxie - "Little sister" extraordinaire

The Flower Power Babies born 6-19-10 Daisy x Rocky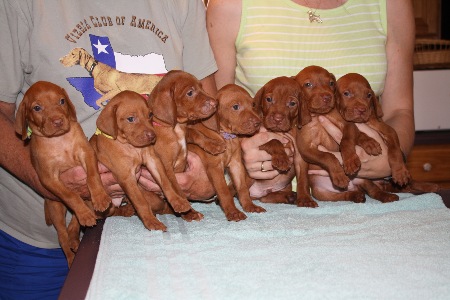 Pyxie - Earned her Bronze Grand Championship and Best in Specialty Show
Sailor - Earned his CD title and in training toward his CDX and Rally
Dev'n - Earned her AKC Championship title
Cozmo - Earned his AKC Championship title
Ellie - Wonderful family companion
Lazslo - Perfect "Little brother" to Faruzi
Hazel - Perfect "Big Sister" to Roxie
Jesse - Wonderful family companion and "Vet mascot"

Mom is Daisy (Ch. Anderson's Smartie Pants JH, NA) and Dad is Rocky (Am GR CH/Can CH Captivatin Ain't He a Knockow't). 7 puppies (4 girls 3 boys) were born on June 19th 2010. All the puppies have gone to their new homes.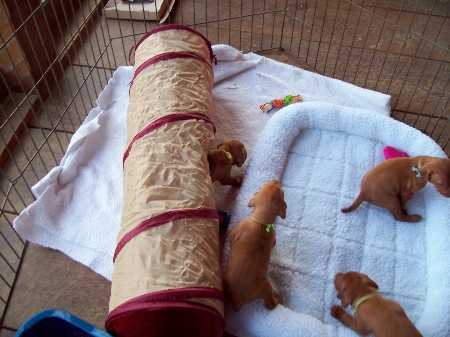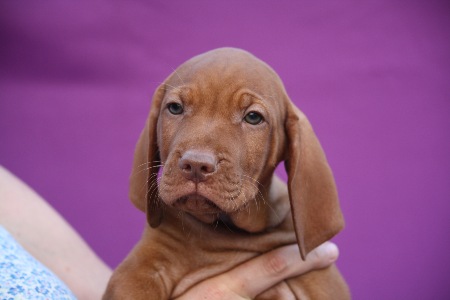 Cosmos (now Cozmo)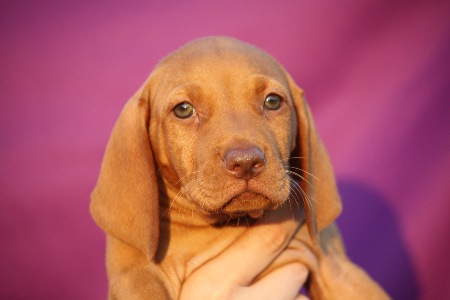 Dahlia (now Jessie)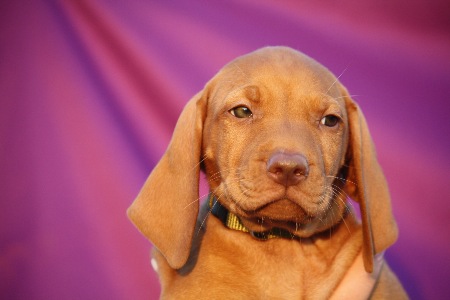 Iris (now Pyxie)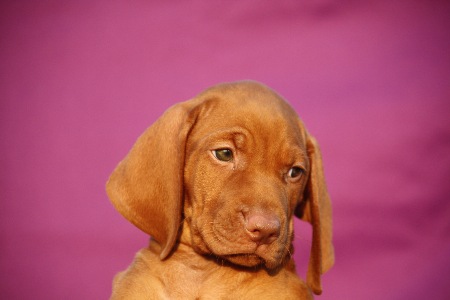 Rosa (now Ellie)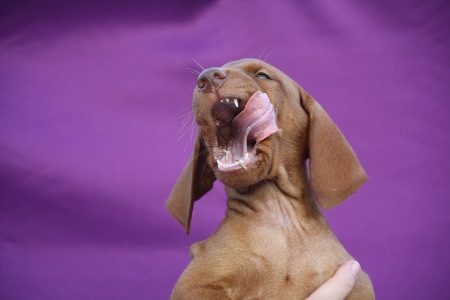 Sailor (who kept his name!)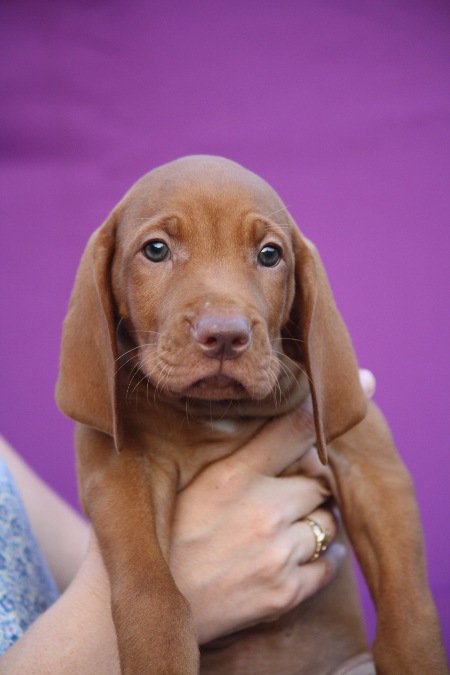 Sweet William (now Lazslo)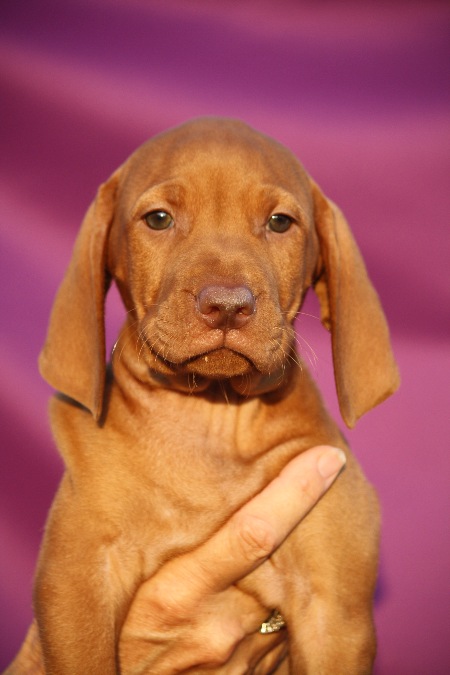 Violet (now Dev'n)

4 weeks shots in the following order: Dahlia (Yellow), Iris (Green), Rosa (Pink), Violet (Purple), Cosmos (G&W), Sailor (B&W) and Sweet William (O&W).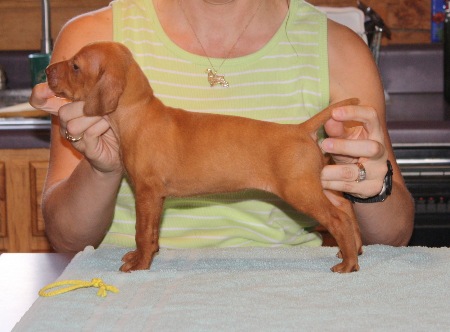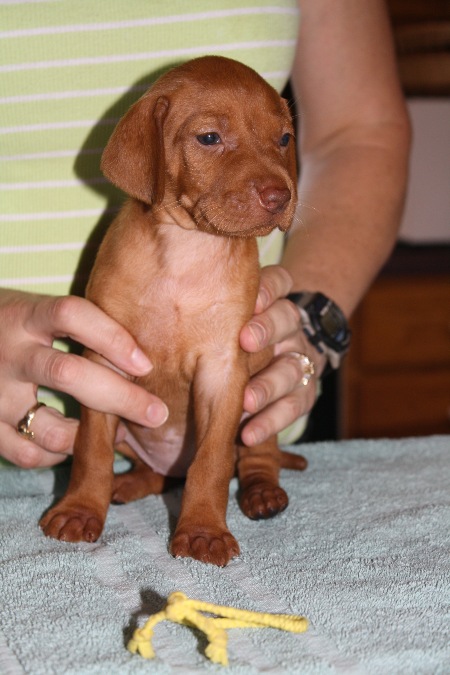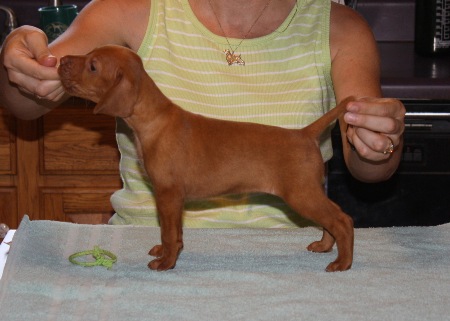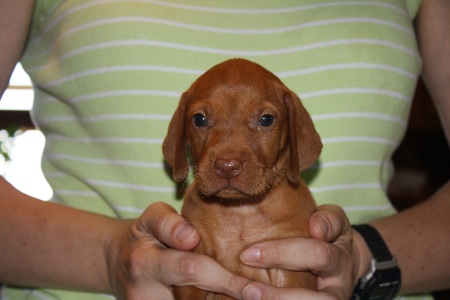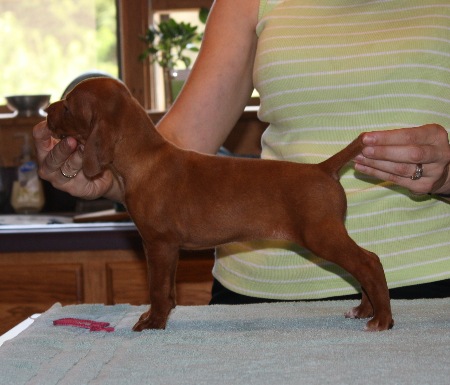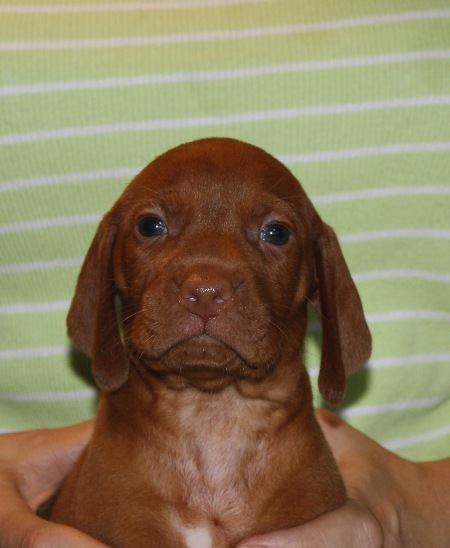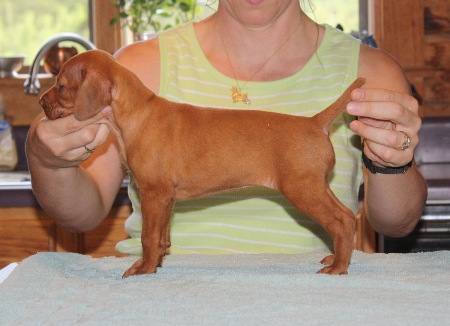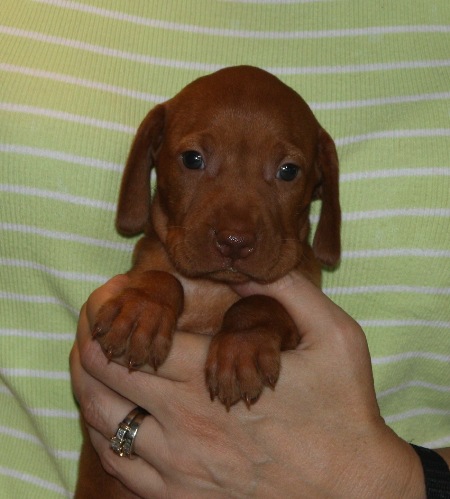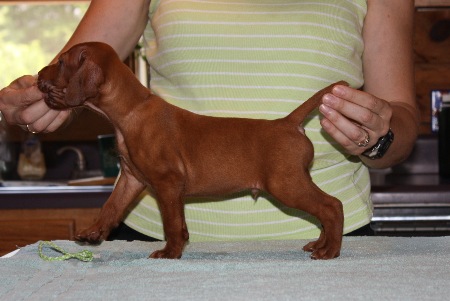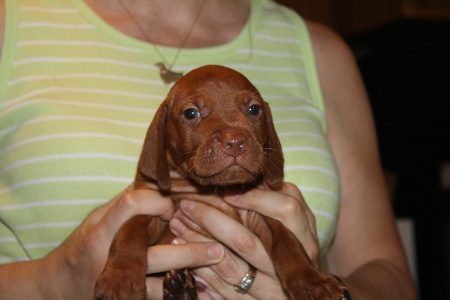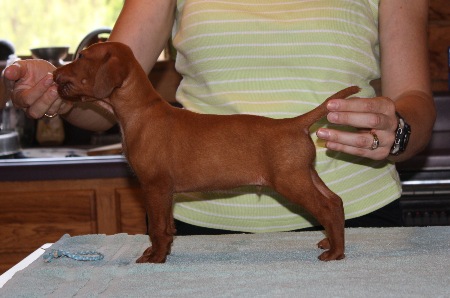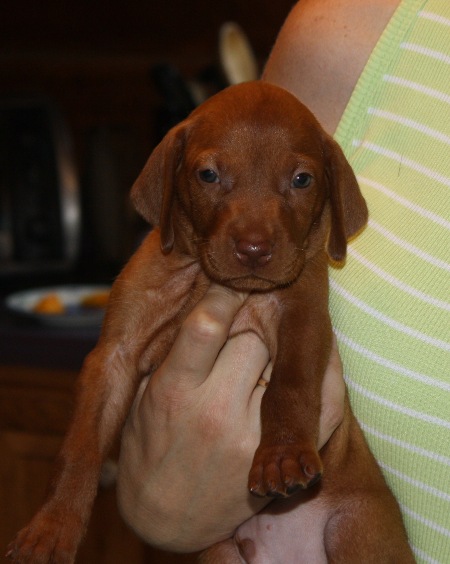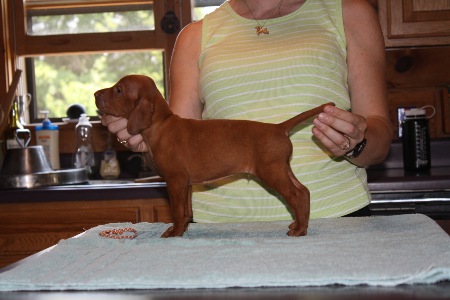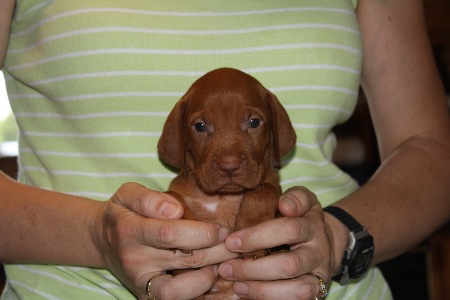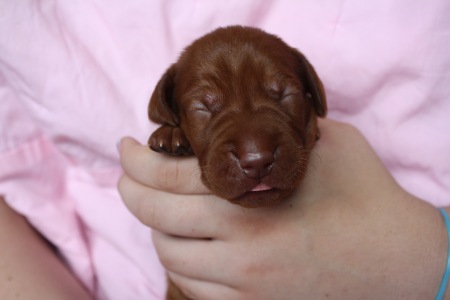 Green & White Boy (Cosmos) at 9 days.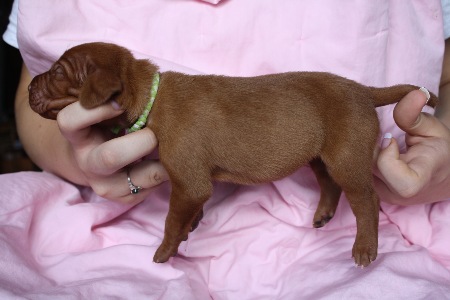 Cosmos "stacking" at 9 days old.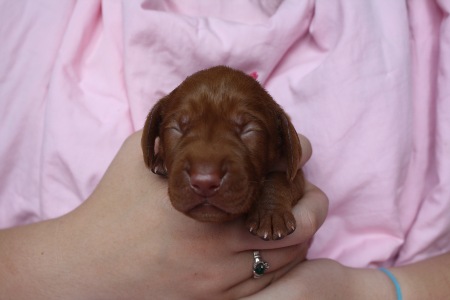 Pink Girl (Rosa) at 9 days old.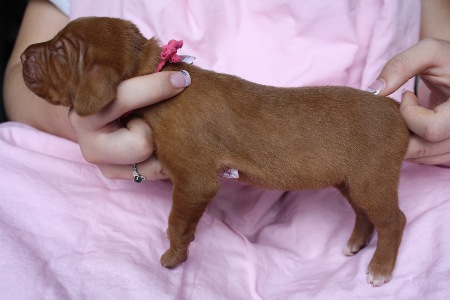 Rosa at 9 days old.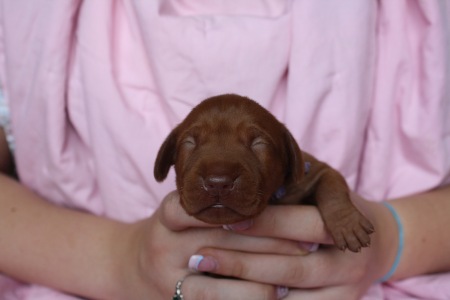 Purple Girl (Violet) at 9 days old.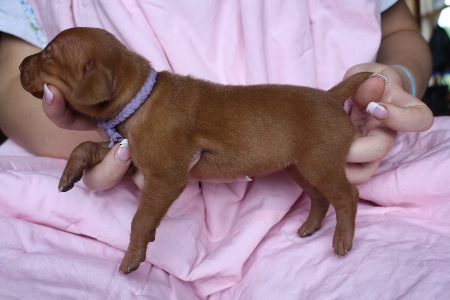 Violet "stacking" at 9 days old.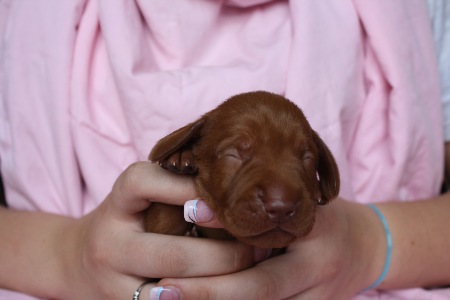 Orange & White Boy (Sweet William) at 9 days old.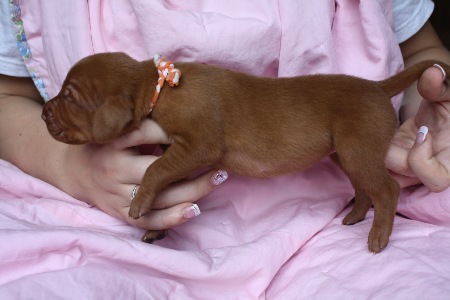 William "stacking" at 9 days old.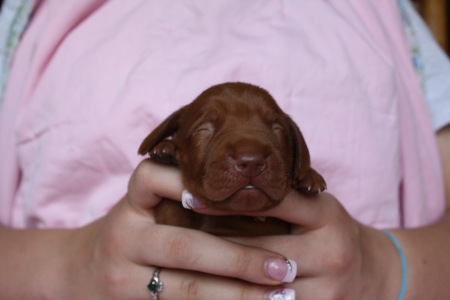 Blue & White male (Blue Sailor) at 9 days old.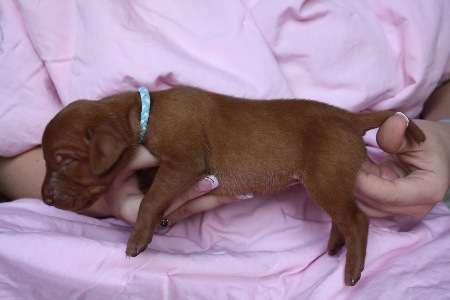 Sailor "stacking" at 9 days old.

Green Girl (Iris) at 9 days old.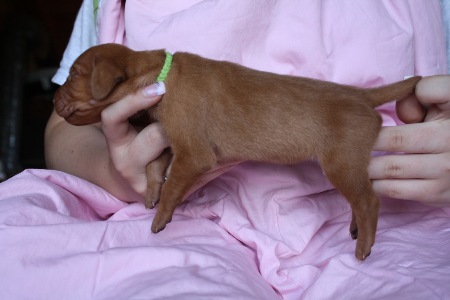 Iris "stacking" at 9 days old.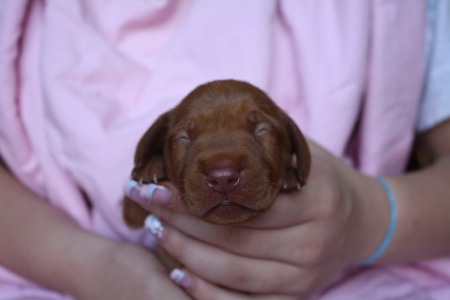 Yellow girl (Dahlia) at 9 days old.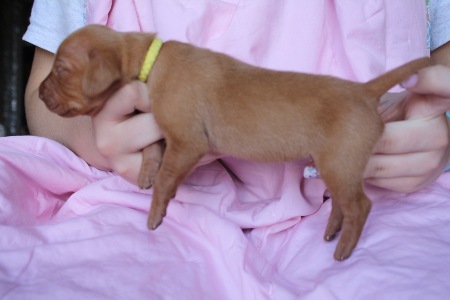 Dahlia "stacking" at 9 days old.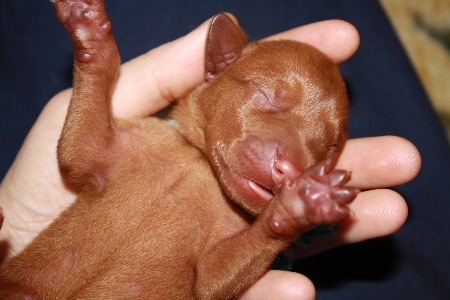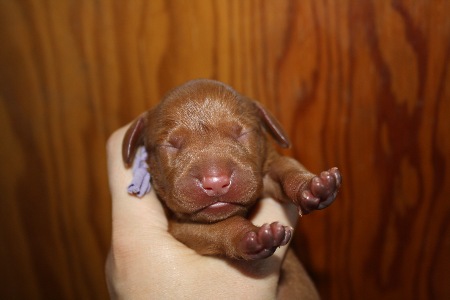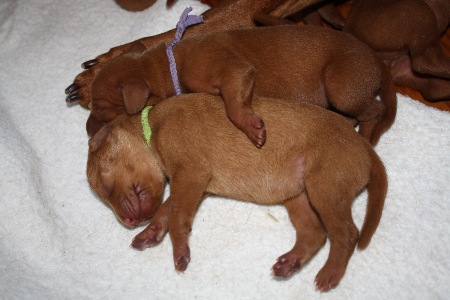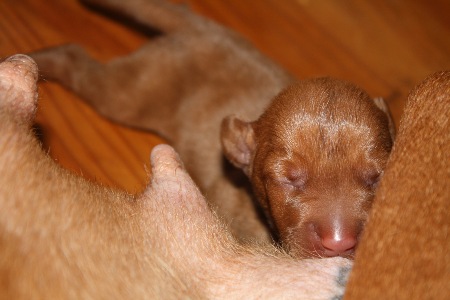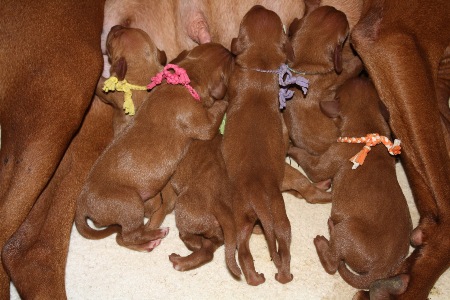 Daisy's 1st litter: Daisy (Ch Anderson's Smartie Pants JH, RN) was bred to Farfel in 2008 (Ch. Jaybren's Bob's Farfel JH), who is pictured below winning an Award of Merit at a specialty. Scroll down to see puppy pictures.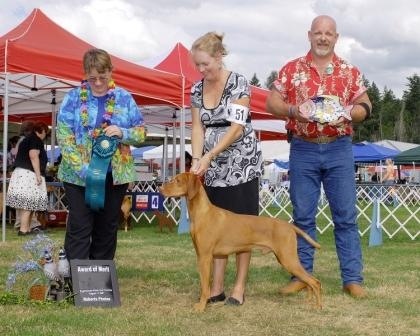 Daisy gave birth to 10 beautiful puppies on Christmas Eve (12-24-08). 6 females and 4 males were born big and healthy, ranging from 12-16 ounces each! All 10 pups are happy, healthy and have gone to their new homes. For all inquiries, please call Dot Romano at 540-258-1779 or Rachel at 360-649-3447.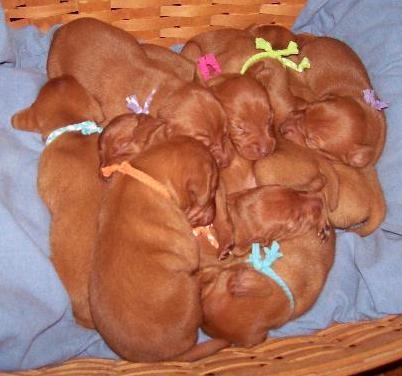 Temporary names: Dasher, Dancer, Prancer, Vixen, Comet, Cupid, Donner, Blitzen, Rudolph, and Kris (Kringle!)

CH Willorunn's Jolly Old St. Mikolas (Mikkey): Black and White (was Green and White) formerly Cupid.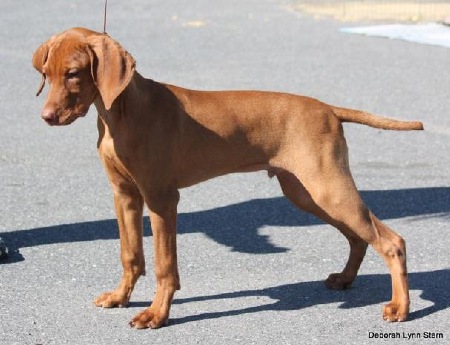 Photo above taken at 14 weeks and photo below taken at 7 weeks 4 days.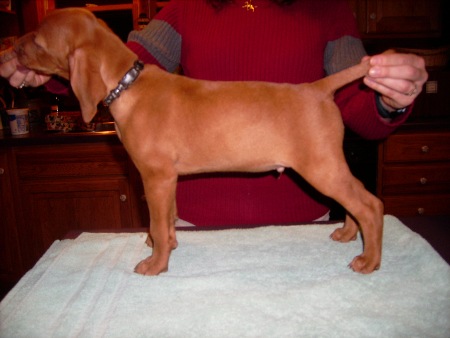 Willorunn's Armstrong: Purple and White male (Donner) moved to Colorado, then later to Washington State with the Carlsson family! Armstrong was an angel on the plane according to Cindee :)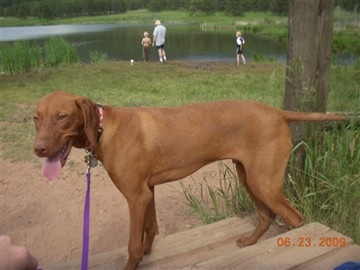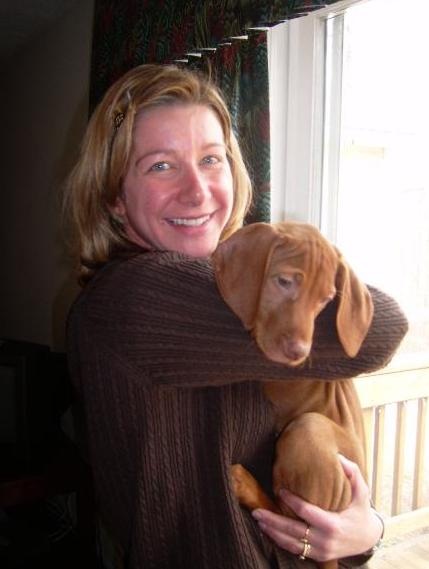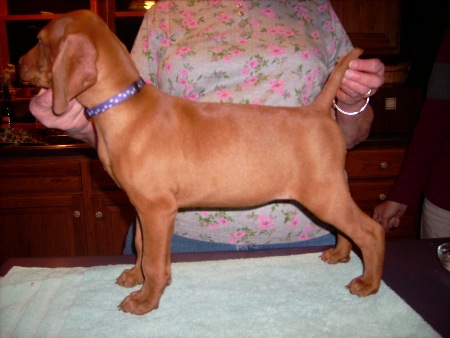 Willorunn's Faruzi: Faruzi (was Dasher) Blue and White male (first born!) rode in style to New York to live with his new owners Paul & Silvio.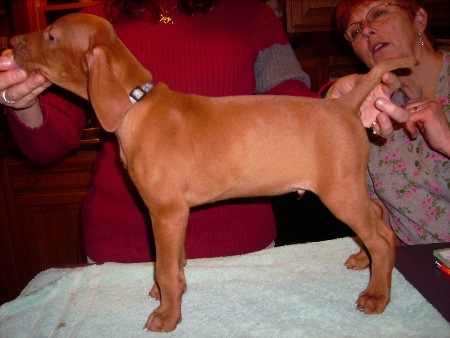 Dasher's SWEET face!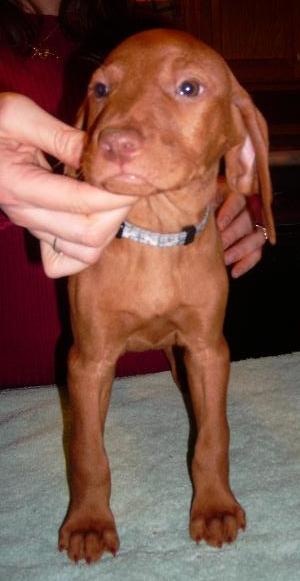 Willorunn's Count Nicholas of Debrecen - Nikki (formerly Rudolph): Red and White male has moved to New Jersey with his new family, the Gorzsas'. He is getting along splendidly with the Westies!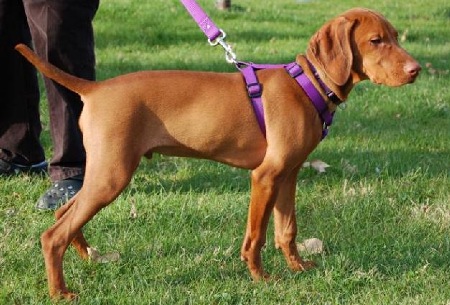 Nikki cuddled up in his bed.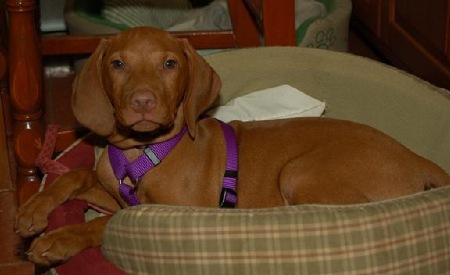 Going to his new home.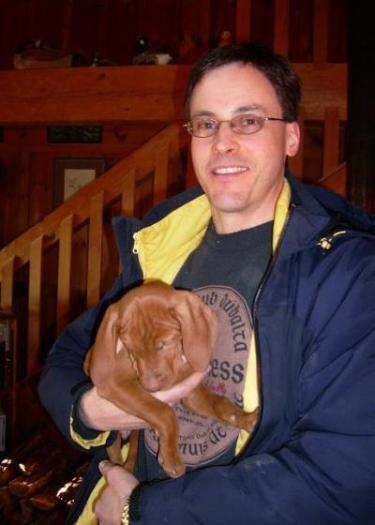 Nikki at 7 weeks 4 days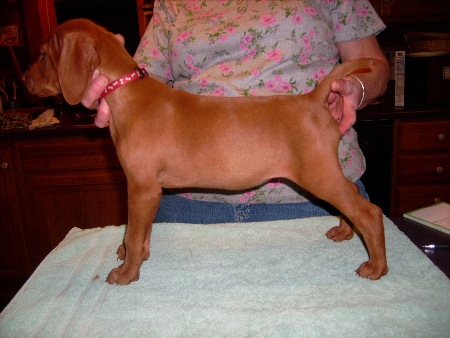 CH Willorunn's Visions of Sugar Plums - Vivi - Orange female (was YELLOW) will be a new member of the family at Willorunn Farm. Dot says this fiesty girl will give the big dogs a run for their money.

Vivi at 16 weeks, below, being stacked by Dot.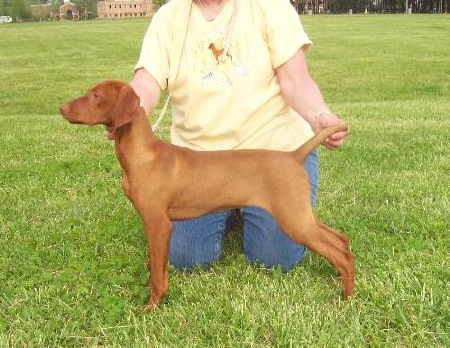 At 7 weeks 4 days.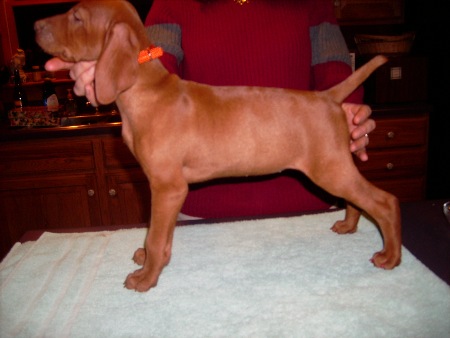 Willorunn's Lexington -Belle - (blue collar) now lives with her new family, the Wharton's in Richmond, VA. Pictured below at 10 weeks.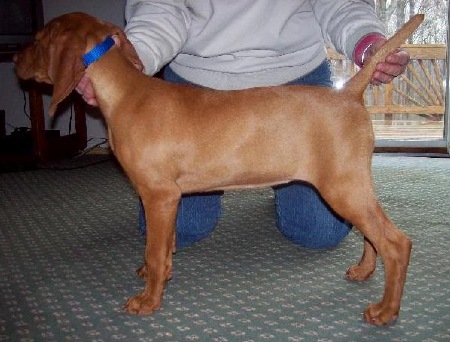 At 7 weeks 4 days.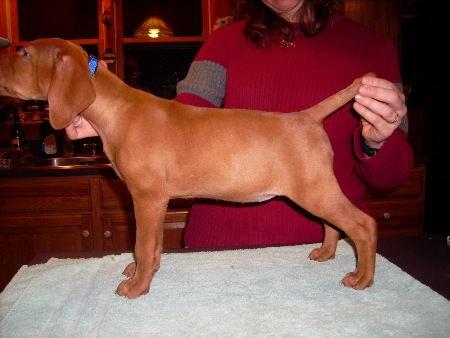 Anderson's Willorunn Shiraz CGC (Shira for short) - Purple Female has moved to the great state of New York too! She is a new member of the Anderson's household and will be hunting for plenty of birds up there. She is now beginning to train for obedience and agility too!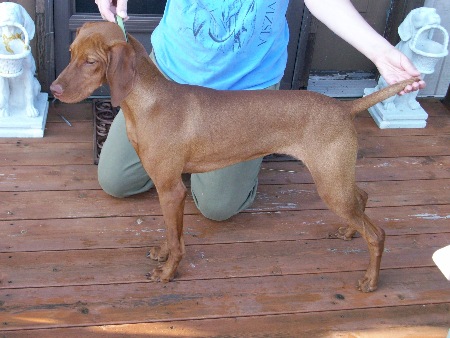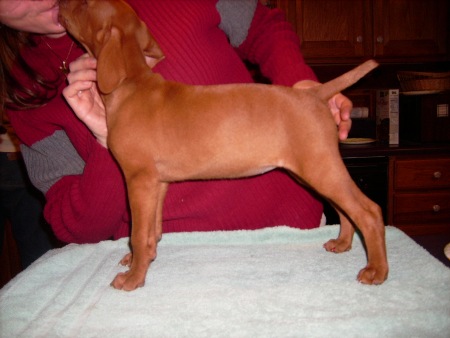 Willorunn's Night Before Christmas II PCD, OA, OAJ, RN - Eve (Green Female) lives at Willlorunn Farm. Eve is show pointed and working on her Excellent Agility titles!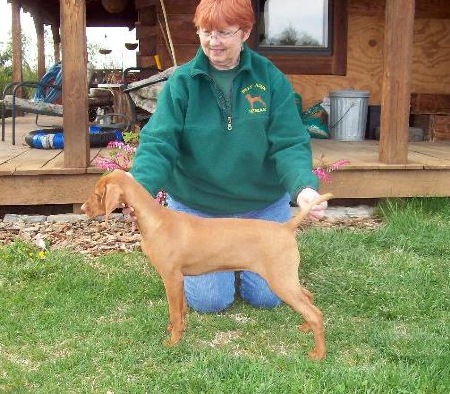 Willorunn's Silver Bells CD (Bell) was Kris: Red female (was orange collar). She has made herself at home with Joe and Edie in Pennsylvania. I hear she is already sleeping in the bed! She recently got to reunite with her sister, Shira, for their first experience in the field.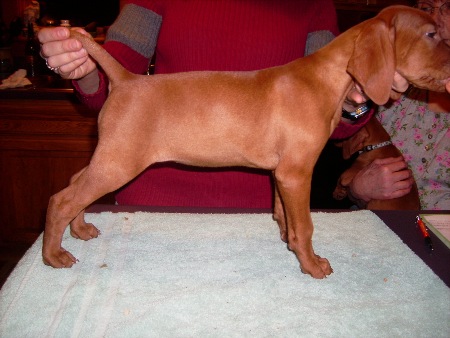 Hazel - (Willorunn's Night Before Christmas, formerly Vixen) - Pink Female has moved to NC with the Gregory family. Deborah and Simon are doing a fabulous job with Hazel and she adores the girls, Olivia and Isabella.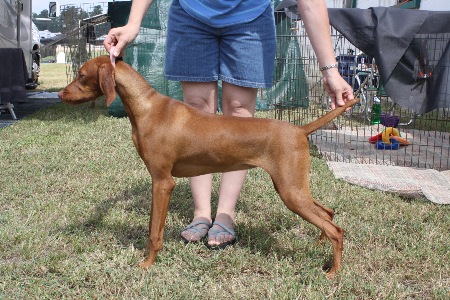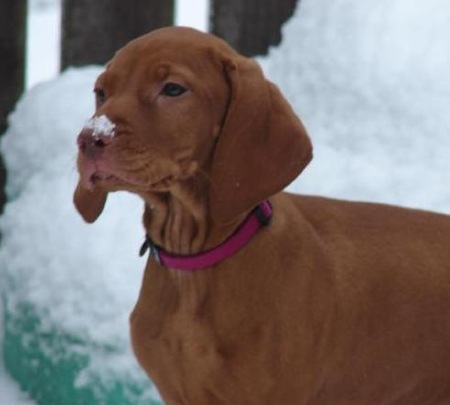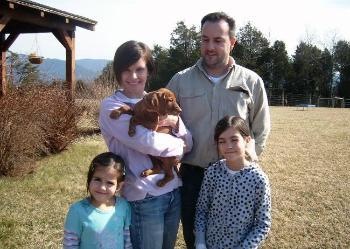 Pretty in Pink!

Proud mom Daisy nursing her babies.

Almost 4 weeks old! Happily snoozing in their bed.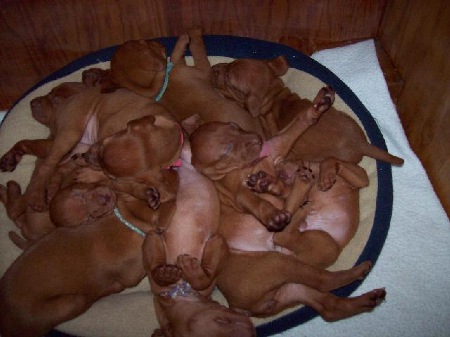 Our 1st attempt at "stacking" 4-week old pups!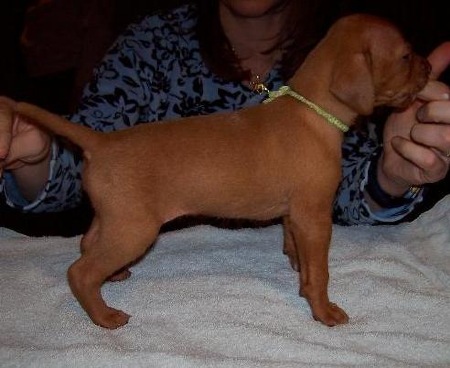 Housebreaking begins EARLY! The puppies are already learning how to use their "potty" at 4 weeks old.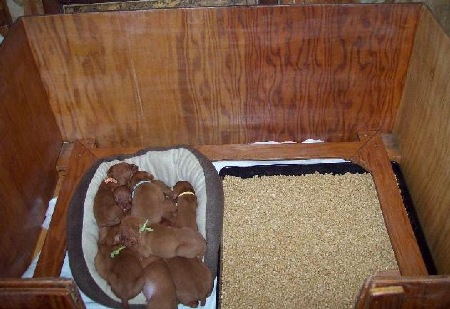 Daisy, getting some well-deserved rest!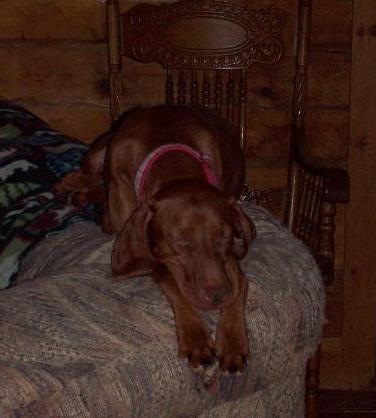 The first days of puppyhood: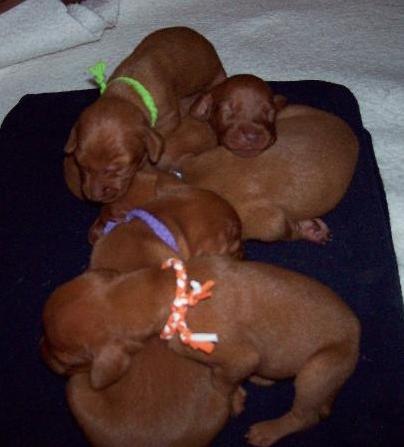 Doing what puppies do best - sleeping!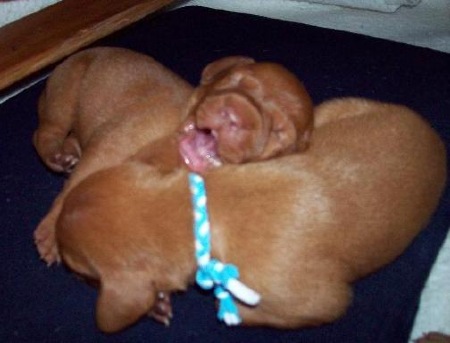 YAWN! Being cute is such a tough job!!!