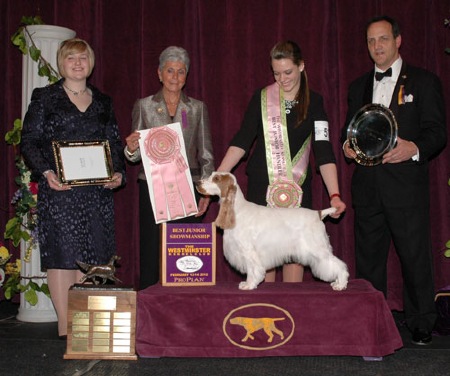 Ania achieved a goal she set when she was only 10 years old - she won BEST JUNIOR HANDLER at the Westminster Kennel Club! What a thrill to watch her at Madison Square Garden in NYC. Unforgettable moment.

Ania Gabrielle Kelly began showing dogs in 2003 at the age of 8. Her first time in the ring, she won the Field Trial Class at a Vizsla specialty. Seeing the look in her eye when she won, I knew she was hooked. Ania has been a handler's assistant since she was 12 years old. She worked for Andy Linton 2 years and has been working for Michael and Michelle Scott since 2009. She has now aged out of Juniors and shows in the breed ring as well as competes in Hunt Tests with her dogs. She qualified for the AKC Eukanuba National Championships every year that she competed, making the Finals twice with 2 different breeds and winning 2nd place in 2012. She qualified for the Westminster Kennel Club ("The Garden") in 2008, 2009, 2010, 2011, and culminated in winning BJH in 2012 under judge Terry Hundt. She has shown a wide variety of breeds in Junior Showmanship including: Vizslas, English Cocker Spaniels, English Setters, Beagles, Parson Russell Terriers, Norfolk Terriers, Rhodesian Ridgebacks, Smooth Fox Terriers, Wirehaired Pojnting Griffons, Daschunds, and a Doberman Pinscher.

In 2011 Ania was ranked # 10 Junior Handler in the country (All-Breed) and #4 Sporting Dog handler with very limited showing. Ania finished 2009 ranked #8 overall in the US for Junior Showmanship, #1 English Cocker Junior Handler, #5 Vizsla Junior, and #4 in the Sporting breeds.

Ania and Rocky on their way to Best Junior handler at the Carolina Specialty.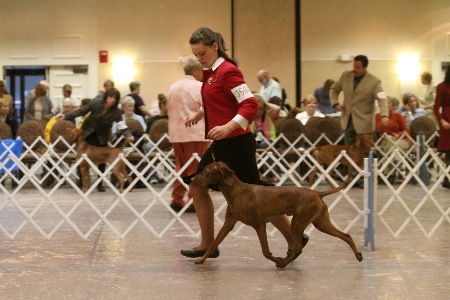 Ania is pictured below showing Wizard, her English Cocker Spaniel (Ch. Winfree's Do You Believe in Magic) and winning Best Junior Handler over an entry of 72 juniors at Seattle Kennel Club!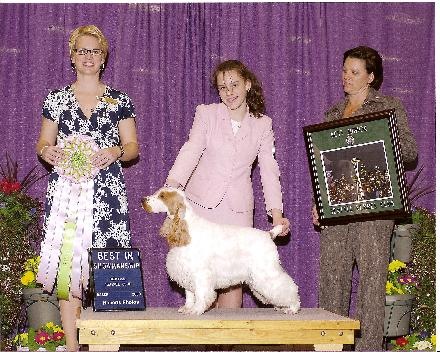 While living in Washington State, Ania spent a year working for professional handler Andy Linton. He and his full-time assistant, Ashlie Whitmore, were such a wonderful influence on Ania.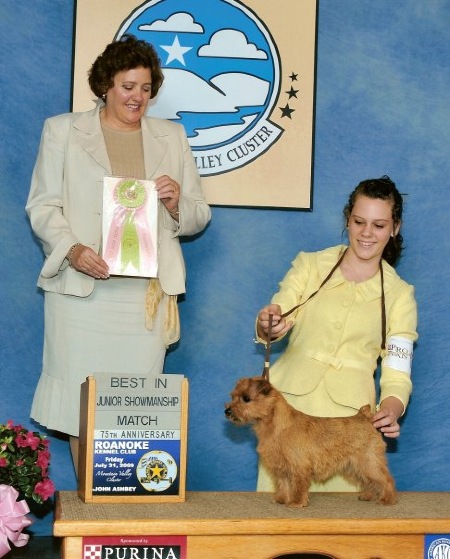 Above: Ania showing gabby, a Norfolk Terrier, in Juniors.

Ania winning 1st place at the prestigious Montgomery County Kennel Club!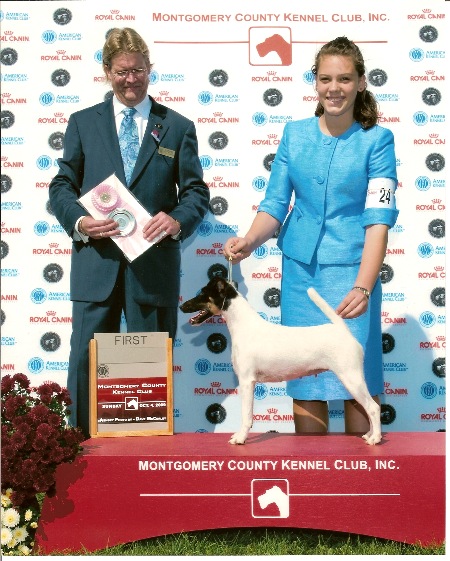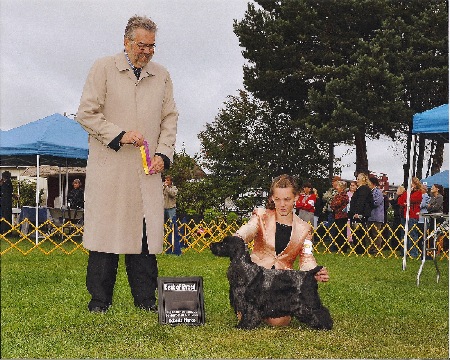 Ania won BOB showing Gabe, the first day she ever handled him! The owner, Kay, had a conflict and Ania offered to help.

Pictured below is Ania showing Lulu and winning Best Junior Handler at the English Setter Specialty in Gig Harbor Washington in 2008.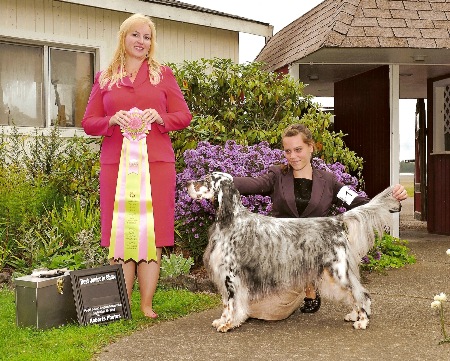 Ania showing Vivi to Best Of Winners at the National Specialty!